.: Screen capturing software: How to Record Streaming Video from Live Web Cams to Hard Disk :.
How to Record Streaming Video from Live Web Cams to Hard Disk
Screen capturing software for Windows
Replay Video Capture Editor's choice! (Shareware - $39.95/Windows) - the easiest way to capture whatever you see on your screen, and turn it into a movie file, or "screencast." It's a great way to make Software Demos and Tutorials, make Powerpoint Videos, record Flash videos (especially secure videos using RTMPE protocol and SWF verification), Silverlight videos, MoveMediaPlayer videos, QuickTime videos, DRM protected videos, and a lot more. It can record from a screen region, or any application window. Replay Video Capture makes standard Windows Media WMV files or MPEG-2 video files. Replay Video Capture can record video with sound even if you don't have Stereo mix / Wave-Out mix in Windows 7/Vista/XP. The program can record high quality videos keeping audio and video in sync for hours. It can record video with audio from webcam chat sites, VoIP video calls, webinars. Replay Video Capture allows to record video from hidden windows.
WM Capture Editor's choice! (Shareware - $39.95/Windows) - is an easy to use screen recorder allowing to record video even from hidden windows and windows in the background. It can also record video with audio even if you don't have Stereo Mix in Windows 8/7/Vista/XP. High-speed video processing and MPEG-2 and Windows Media codecs allow to get perfect quality videos even on slow computers. The program allows to record online streaming videos as well as DVDs, Internet chats, online web-cam chat sites. It even allows to record video of your Skype and other VoIP video calls (both sides of the conversation can be recorded).
CamStudio (Freeware/Windows) - CamStudio is able to record all screen and audio activity on your computer and create AVI video files. It can also convert AVI files to SWFs flash videos. With CamStudio you can create demonstration videos and video tutorials for any software, product or service. CamStudio is compatible with Windows Vista and XP.
TechSmith Camtasia (Shareware/Windows)
Camtasia (Shareware - $299.95/Windows) - is a powerful screen capturing software, although it is outrageously priced. It can record video with audio and then edit your recordings. Free trial for 30 days.
River Past Screen Recorder (Shareware- $39.95/Windows) - Captures AVI video from the full screen, a window, a rectangle region, or a defined area around the cursor. Cursor image can be included. You can even record audio into the AVI, from the microphone, line-in, or speaker.
FrontCam (Shareware/Windows) - is a screen camcorder tool. It can capture the action from your screen into standard AVI movie files. Sound from your system microphone is also recorded. You can use it to capture screen into static pictures too.
ACA Screen Recorder ($39.95/Windows) - is a video capture software that records AVI movies directly from your Windows screen.
ScreenCorder (Shareware- $39.95/Windows) captures and records all your desktop activity. You may enhance recordings with step-by-step audio instructions and graphic speech bubbles. You also can correct audio and video or add new material to existing recordings. Export recordings to multiple formats, including AVI, Animated GIF, WMV streaming video and Flash.
MediaCam (Shareware/Windows) - captures video from the whole desktop, a selected area of the screen, or a window. Exports directly to PowerPoint, AVI and PackAndView. Captures audio and overdub if required. Shares captures across the network, distribute them via e-mail, and publish them on the Internet or Intranet. Free 30 day trial.
HyperSnap and HyperCam (Shareware/Windows)
HyperSnap is a screen capture and image editing tool for Windows. Captures screens from standard desktop programs and hard-to-grab DirectX/Direct3D, Voodoo and Glide mode games. The program can auto-scroll and concurrently capture long web pages and other documents, enabling it to grab more than is visible on the screen. Can also resize and capture entire windows much bigger than the screen on Windows XP. The program integrates with the Windows clipboard, and has new painting and editing features, too.
HyperCam is video capture software that records AVI movies (screencam) directly from your monitor. It supports text annotations, sound, and screen notes. You can select Frame rate and compression quality prior to video capture.
Hero Screen Capture - is a screen capture and video capture software that can record full or any area of computer screen to AVI or GIF format. It supports sound recorder, text annotation. You can combine files and edit frames with it.
Easy Video Capture (Shareware - $29.95/Windows) - a video capturing tool for recording your screen activities into AVI video in real time. It supports recording video, audio, and mouse cursor. You may change the options for recording, add text to video, record video with audio, choose to record mouse cursor or not, blink the area border when recording, and so on.
Capture-It! (Shareware - $19.95/Windows) - is a screen capture program. Can capture screen shots of the active window, the entire screen, user defined area, menus, objects, and more. Saves video as AVI video or GIF animation. FREE 14-Day Trial.
CapturePad (Beta version/Windows) - s a video capture utility which allows you to capture any screen activity into standard AVI file, JPG sequence and even into Flash SWF file. Besides that CapturePad works with any video hardware attached to the computer so you can easily grab and save a video from your webcam, tv tuner, etc.
Capture Professional (Shareware/Windows) - captures the entire screen, controls, menus, elliptical areas, windows, DirectX surfaces, polygonal areas, client areas, rectangular areas and more. Captures images from games and media player applications. DirectX overlay surfaces can be automatically captured by themselves or they can be included in screen captures made using other screen capture modes. Capture Professional has the ability to capture images or video and audio.
ZD Soft Screen Recorder (Shareware/Windows) - video screen capturing software, however. Has good recording speed and the output file quality. Can capture the full screen, a window, a rectangular region. Mouse movements and audio can also be recorded.
Cybercam (Shareware/Windows)
Macromedia RoboDemo (Shareware/Windows) - records your actions in any application and instantly creates a Flash simulation with visible and audible mouse movements. Can automatically generate text captions. Free 15-day trial.
ACS Capture (Shareware - $25/Windows) - makes screenshots and captures screen images, icons and records your actions as AVI. Free 30-day trial.
Cam2Flash (Shareware/Windows) - Record your screen and save in as a Flash file (SWF). In Enterprise version, you can also create an exe file.
WinCam 2000 (Shareware/Windows) captures everything on your computer screen in full motion, and records it as a movie file. Adding narration, background music and sound effects are very simple using the Recording Wizard. Recorded movie files can be converted to EXE, AVI, and ASF as well as WinCAM 2000's own WCM and WCO file formats. Have built-in movie editor. Free 15-day trial.
Screen capturing software for Linux
WinCam 2000 (Shareware/Linux) Screen capture software. Doesn't support sound recording. Free 15-day trial.
Screen capturing software for Macintosh
iShowU Studio (Shareware/Mac OS X) - screen recording software for your Mac. Allows to capture/record everything on your screen. Can even be used with 3d games while screen video recorders bog down your Mac. iShowU provides real-time performance with an easy-to-use interface.
BTV and BTV Pro (Mac OS) - allows you to view video from any video input source, either in a window or full screen on an entire monitor. Video can be captured to disk as a standard QuickTime movie file and single frames can be saved as image files.
Snapz Pro (Shareware - $69/Mac OS X) is a quantum leap in video capture technology, adroitly capturing full motion video of anything on your screen at a blistering pace, complete with digital audio, and an optional microphone voiceover. It allows you to effortlessly record anything on your screen, saving it as a QuickTime movie or screenshot
.$ Recommended stream recorder $.
REPLAY CAPTURE SUITE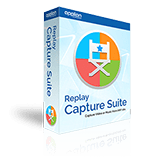 RECORD / RIP/ DOWNLOAD / CAPTURE / SAVE / CATCH / GET ANY AUDIO / VIDEO stream including
streaming Flash video (like YouTube),
Windows Media audio and video,
Real Audio, Real Video, Real Media,
Apple QuickTime,
Microsoft Silverlight,
HTTP Dynamic Streaming,
Apple HTTP Live Streaming,
Smooth Streaming Media,
Lumberjack streaming,
Icecast (ICY) streaming,
MoveMediaPlayer,
Nullsoft Video,
video streaming from Slingbox,
satellite Sirius and XM Radio,
any music from Web Radio Stations and Internet Music Services.