.: How to record streaming audio on your PC :.
How to record streaming audio on your PC
If you're a big fan of Internet radio, and streaming audio of all kinds, probably you have a problem with it - once you listen to it, it's gone. Most streaming broadcasting companies don't want listeners to record their broadcasts. Applications such as RealPlayer or Windows Media Player don't include record options. But there are a lot of programs that lets you save streaming music or other live Internet broadcasts to your PC.
Analog audio interceptor
Audio interceptor is a crude method, but it works! Take the analog audio out of your sound card and route it to the audio input of the same sound card. Then use any audio recording application to digitally re-record the input signal. However, this method is a hassle to set up, and the analog quality isn't nearly as good as is the original digital broadcast quality.
Digital audio interceptor
Ideally, you'd intercept and record the digital audio signal. That way, there's no hardware to set up and the audio quality remains digital. The application re-records and recompresses the signal, but the audio is still digital.
Here are some applications for intercepting digital audio to try.
Note that many Streaming Video Recorders can download streaming audio as well as streaming video.
Featured Product:



Replay Music

Capture streaming music, and turn it into high quality MP3 files, one for each song. Replay Music even automatically adds the artist and song title for you!. It works with services like Rhapsody and Napster, as well as online radio. It's a great way to discover new music!

Download a free trial today!
Live Stream Recorders
Live-stream recorders record any signal produced by your sound card (Internet stream, music, audio from videogames, ...). Live-stream recording is simple. Enter the URL and the file name for the sound file. Hit start/stop record. This method works well, but you have to start and stop the recording manually.
Replay Music Editor's choice! (Shareware - $29.95 / Windows 8, 7, Vista, XP, 2000)
Replay Music is a direct sound recording program that allows to record any sound from your sound card. It is a unique program. It's designed specifically for recording MP3 song files - it will take digital music services like Pandora, GrooveShark, RDIO, Spotify, Last.FM, Rhapdosy, or online radio like Yahoo Launch, and make individual MP3 files from each song. Plus, it will tag each MP3 file with the name of the song and artist. And it works in Windows 8, 7 and Vista even if you don't have the Stereo Mix / Wave-Out mix option. Replay Music comes with 30 day unconditional money back guarantee, so it is safe to try!
Freecorder 8 Editor's choice! (Freeware / Windows 8, 7, Vista, XP)
Freecorder 8 a freeware software, that allows to capture any audio from your sound card. It can record sound even from RealTek, Simatel sound cards that doesn't support simultaneous playing and recording. And it can record sound even on those PCs with Windows 8, 7 or Vista that doesn't have the Stereo Mix / Wave-out mix / What U Hear. It can also convert audio and video files. And it's totally FREE! Beware that it can be bundled with 3rd party software that you may want to avoid installing.
Super MP3 Recorder Pro lets you save any audio stream coming into your sound card. It automatically chooses the best recording options, and then saves the stream as .mp3, .wav, .wma, .vqf and .ogg files. Records streaming audio in many formats, including Windows Media Player, QuickTime, RealPlayer, and Flash. Can start and stop recording at any time you set. Have sound editing feature.
Standart version is less powerfull, but costs $10 less. (Shareware - $29.95/Windows)
Real MP3 Recorder is a sound recording program. It records sound generated, or requested, by other computer programs, such as RealPlayer, Windows Media Player, Quick Time, WinAmp, and many others. Saves the streams as MP3 or WAV files only. (Shareware - $29.95/Windows)
Total recorder saves any kind of audio files (RealAudio, MP3, Windows Media Player), streaming to your computer from a source such as an online radio station. (Shareware/Windows)
Audio stream ripping/grabbing
If you're a fan of radio stations that use Shoutcast, IceCast, Live365, Windows Media, QuickTime Darvin servers, audio stream grabbers fits you better. These recorders not only save a live broadcast over the Internet, but also rip the broadcast into individual songs!
RadioTracker Editor's choice (Shareware - $34.90/Windows) - mp3 audio stream ripper allowing you to connect to various IceCast/ShoutCast compatible servers/broadcasters and save the streaming audio to one or more MP3 files. This program can split and tag MP3 songs from online radio stations. It can download unlimited number of web radio stations simultaneously (limited by your internet connection).
Radiotracker has a very unique feature: it delivers the music you've selected in MP3 format as soon as it is played on any of over 14,000 watched internet radio stations worldwide.
Download RadioTracker. It is free to try.
Buy RadioTracker at element5 for $34.90
3aLab iRadio v.1.x/b> (ShareWare - $39,95/Windows)
iRadio is a audio stream ripper (not direct sound recording program). iRadio can play and record internet radio at the same time. iRadio can rip Windows Media, Winamp ShoutCast, Winamp Live 365, QuickTime Darvin audio streams.
iRadio automatically saves every new track in a separate file with the corresponding file name. While listening to a track you can get it full even if you have started recording from the middle. You can optionally select saving tracks in directories with current date and time. There are many more unique options allowing you to arrange your music and make new downloads.
iRadio main features:

Integrated search for radio stations by genre or keyword
Full track information
Separate track recording
Auto track caching
Several player options
Media Convertor (convert any to mp3)
Creation of CD's with your favourite music
Easy CD mixing
CDA and MP3 format for audio CD
Retransmission of radio programs to many users

Platform: Win95/98/NT/2000/XP/2003.
HiDownload - is the leading download manager that download streaming media and record shoutcast. You can evaluate it for FREE (50 days trial period). ($39.95/Windows)
RipCast Streaming Audio Ripper allows you to connect to various SHOUTcast compatible servers/broadcasters and save the streaming audio to one or more MP3 files. This program even has the smarts to save each song as a separate MP3, rather than saving them all as a single file! RipCast comes with RipCast Agent, a utility that allows you to easily download from streams you find in your Web browser. It also builds and organizes your MP3 collection with an easy-to-use interface and allows you to browse for the type of music you like ($11.98/Windows)
INet Stream Archiver ($15/Macintosh) - allows you to record Shoutcast and Icecast internet radio. While recording, it will check the track name being played and make a new mp3 file when a new song starts - each mp3 file will have the right song name. You can also record multiple radio stations, depending on how much bandwith you have.
StreamRipperX (Free/Macintosh) - Records from multiple stations at the same time Hundreds of radio stations supported: ITUNES radio stations, Shoutcast / Icecast compatible stations
VCR-Style Recorders
The best stream recorders have a VCR- or TiVo-style interface that lets you program show times. These recorders are handy if you want to record your favorite programs periodically.
Replay AVthe best ($49.95/Windows) - One of the best VCR-style recorders for the PC. This simple application lets you record a live stream. It also lets you program the dates and times of your favorite shows. Just enter the station's URL, the date, and the time to record.
Once your show is recorded, Replay AV makes MP3 files for listening with an MP3 player or your PC. Or, you can have Replay AV automatically make an audio CD for playback on a home or car CD Player.
You can record anything you hear on the PC, including streaming audio broadcast from Internet radio stations. You can even use Replay AV as a general purpose recorder for archiving audio books, saving music, monitoring online police scanners, recording from devices attached to your PC (like cassette decks or radios), or other uses.
Blaze Audio Power Record ($19.95/Windows)- Power Record is good not only for instant recording, but also for scheduled events. You can set up an unlimited number of events for one-time, daily, weekly or monthly recording. The program can playback your recordings and convert them to MP3 with either Fraunhofer or Lame encoders.
.$ Recommended stream recorder $.
REPLAY CAPTURE SUITE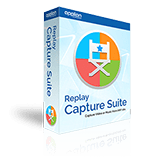 RECORD / RIP/ DOWNLOAD / CAPTURE / SAVE / CATCH / GET ANY AUDIO / VIDEO stream including
streaming Flash video (like YouTube),
Windows Media audio and video,
Real Audio, Real Video, Real Media,
Apple QuickTime,
Microsoft Silverlight,
HTTP Dynamic Streaming,
Apple HTTP Live Streaming,
Smooth Streaming Media,
Lumberjack streaming,
Icecast (ICY) streaming,
MoveMediaPlayer,
Nullsoft Video,
video streaming from Slingbox,
satellite Sirius and XM Radio,
any music from Web Radio Stations and Internet Music Services.