.: How to capture streaming video and audio (streaming media) :.
Capture streaming video and audio (record streaming media)
How to record/download/store/catch/save/capture stream on the Internet.
When talking about broadband streaming, the phrases 'capturing streaming video', 'recording streaming video', 'downloading streaming video', 'saving streaming video', 'ripping streaming video', 'getting streaming video', 'catching streaming video' all refer to the same process of keeping the streamed image on a hard drive in a format that allows you to play it back again and again.

However when used correctly stream capture means capturing packets from streaming media player, and recording streaming media can mean both download streaming media and capturing it. Other terms like ripping, saving, getting should not be used to avoid ambiguity.

Broadband streams like live streaming video, streaming news video, streaming movies, streaming music videos can be captured, recorded, downloaded with special software: Stream Downloader (also called Stream Ripper), Stream Capture software, Stream Recorder. Online videos can also be recorded from screen with screen recorders (also called screen capture software, screencasting software) and online music, radio programs and audio books can be recorded from your sound card.
How to record sound played back through your sound card
How to record sound played back through your sound card and any other sound sources like microphone, VCR, Audio tape player etc (including audio streams recording).
How to find stream URLs
Streaming media recording software detecting stream URLs automatically
URL Snooper (Freeware / Windows)
Grab Any Media (Freeware / Windows, Linux, Mac OS, Android, iOS) - browser extension (Chrome, Firefox, Opera, Yandex Browser) allowing to find streaming video URLs
How to record gameplays from PC, xbox 360 and Sony PS3 in HD or SD
Where to download music and movies free
Removing DRM protection by re-recording audio and video files
MP3DO All Sound Recorder (Shareware/Windows) - sound recording software allowing to convert DRM protected WMA, AAC, M4P audio files to unprotected MP3 files
FAQ
Miscellaneous streaming questions
.$ Recommended stream recorder $.
REPLAY CAPTURE SUITE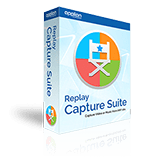 RECORD / RIP/ DOWNLOAD / CAPTURE / SAVE / CATCH / GET ANY AUDIO / VIDEO stream including
streaming Flash video (like YouTube),
Windows Media audio and video,
Real Audio, Real Video, Real Media,
Apple QuickTime,
Microsoft Silverlight,
HTTP Dynamic Streaming,
Apple HTTP Live Streaming,
Smooth Streaming Media,
Lumberjack streaming,
Icecast (ICY) streaming,
MoveMediaPlayer,
Nullsoft Video,
video streaming from Slingbox,
satellite Sirius and XM Radio,
any music from Web Radio Stations and Internet Music Services.