.: How to download/capture/record streaming video and audio : iShowU Studio - screen recording software(Mac OS X) :.
iShowU Studio - screen recording software(Mac OS X)
Record video from screen without bogging down your Mac.
iShowU Studio (Shareware/Mac OS X) - screen recording software for your Mac. Allows to capture/record everything on your screen. Can even be used with 3d games while other screen video recorders may bog down your Mac.
iShowU HD has been rebuilt from the ground up to provide blazing real-time performance with a brand new, easy-to-use interface. With professional features like drag-and-drop to Final Cut and multi-channel audio capture just a single click away, iShowU HD has all the power you will need.
Instantly capture your computers video and audio: No need to export the video for it to be usable. Once recording is complete you can immediately email it, or drag it into a video editor for further editing.
Record from iSight & DV cameras: Personalize your presentation using your built-in iSight camera, or indeed any connected camera!
Shoot, Finish, Upload: Upload your finished product using One-Click Publishing. You can also upload to YouTube or Blip.TV. Built-in presets to get the best quality.
Realtime super fast scaling: Want to record at half the size? 2560x1900 into 720p? Now it's no longer a problem - iShowU HD has realtime super quick GPU scaling.
Key recording & Mouse actions: Show your viewers the keys you're using to perform tasks (HD Pro only). Identify when you're clicking the mouse by using a mouse action.
Supports Pro Apps: Includes built-in presets for Final Cut. Finished recordings can be dragged directly from iShowU HD into the timeline. (HD Pro only)
Real time preview and editing of watermarks: Use any picture or image as a watermark by dragging it directly onto the preview. (HD Pro only)
Low CPU usage: Know you're about to capture a CPU intensive app? Engage low CPU usage mode and let iShowU HD Pro perform the grunt work of compression later on. (HD Pro only)
Requirements:


Price: USD $24.99-$34.99
.$ Recommended stream recorder $.
REPLAY CAPTURE SUITE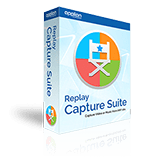 RECORD / RIP/ DOWNLOAD / CAPTURE / SAVE / CATCH / GET ANY AUDIO / VIDEO stream including
streaming Flash video (like YouTube),
Windows Media audio and video,
Real Audio, Real Video, Real Media,
Apple QuickTime,
Microsoft Silverlight,
HTTP Dynamic Streaming,
Apple HTTP Live Streaming,
Smooth Streaming Media,
Lumberjack streaming,
Icecast (ICY) streaming,
MoveMediaPlayer,
Nullsoft Video,
video streaming from Slingbox,
satellite Sirius and XM Radio,
any music from Web Radio Stations and Internet Music Services.