.: How to download/capture/record streaming video and audio : Freeware and Shareware video game recording software for capturing OpenGL and DirectX games on your Windows PC. Fraps alternatives. :.
Freeware and Shareware video game recording software for capturing OpenGL and DirectX games on your Windows PC. Fraps alternatives.
How to record/capture OpenGL, DirectX games on your Windows PC using software only
Video recorders for capturing OpenGL and DirectX games on your Windows PC. Fraps alternatives.
Freeware software for recording/capturing OpenGL and DirectX games (Windows)
Taksi (Freeware / Windows) is an open source utility that allows you to take screenshots and record video clips of your favourite games and other 3D-graphics applications. Taksi aims to provide a free open source alternative to Fraps screen recorder. Taksi can support live video compression with any VFW video codec your system has installed. DirectX 8, DirectX 9, OpenGL and GDI based applications are supported. Video can be recorded at either full-size, or half-size in each dimension (using bilinear minification filter). Audio is not captured.


Game Cam (Freeware / Windows) allows to record real-time in-game movies. Game play footage can be recorded with or without sound. Game Cam is designed to work with most DirectX 7, 8, 9, 10, 11 and OpenGL games.


WeGame (Freeware / Windows) is a media sharing platform for video gamers. The WeGame client allows gamers to capture and publish their gameplay experiences straight from their video game to the web. WeGame can capture videos from screen and take screenshots of your games. Just start the client software, run your game and hit Record.
Supported games: World of Warcraft, UberStrike, Call of Duty: Modern Warfare 2, Counter-Strike: Source, Misc Gaming, RIFT, Minecraft, Team Fortress 2, Drakensang: The River Of Time, Call of Duty: Black Ops, Garry's Mod, Call of Duty 4, League of Legends, Counter-Strike 1.6, DiRT 2, Yoshi's Island DS, Mass Effect 2, Mount & Blade: Warband, Metin 2, Mission Against Terror, Magicka, Left 4 Dead 2, God of War 3, Dante's Inferno, Arcane, Castlevania: Symphony of the Night, Grand Theft Auto: San Andreas, Diablo 3, Left 4 Dead, StarCraft 2 and more.
The project was closed, and the software is not available at wegame.com anymore.


Xfire (Freeware / Windows) enables you to take screenshots and videos of your gameplay and add them to your profile for free. Xfire finds the games you play and tracks how long you play them. It also let your friends know what you're playing so they can join you. XFire allows to chat with other Xfire users, as well as your friends on AIM, Google Talk, MSN Messenger, and Yahoo without exiting the game!


Gregion (Freeware / Windows) freeware Direct 3d/ OpenGL screen recorder. It is mainly used for recording games. You can make a video file (AVI, WMV, RM, MOV, DivX, XVid) from 3D games by using Gregion. The software is not available at gregion.com anymore.


Shareware software for recording/capturing OpenGL and DirectX games (Windows)
Sytexis PlayClaw (Shareware / Windows) is a video recording software supporting OpenGL and DirectX 8/9/10/11. PlayClaw can also show you important information in the form of screen overlays: FPS, GPU and CPU statistics, Teamspeak overlay, Webcam overlay, Timer, Stopwatch and more. PlayClaw is optimized to use multi-core CPUs effectively. Ultra HD videos at a high frame rate is not a problem. PlayClaw is licensed to use H.264/AVC encoding for captured frames. PlayClaw uses Intel QuickSync or NVidia Encoder hardware acceleration to get over 60fps for 1080p video. Prerecording allows you to have your own personal time machine ensuring that you will not miss cool gameplay moments without creating massive files for you to edit afterwards. PlayClaw supports up to 16 audio sources simultaneously. Software can capture multi-channel audio, mix sources in one track or write audio in separate WAVe files.
Buy PlayClaw at Avangate
Download PlayClaw from Sytexis


BandiCam (Shareware / Windows) allows to record a certain area on a PC screen, or a program that uses the DirectX/OpenGL graphic technologies. BandiCam allows to record games like WOW, Minecraft, as well as Webcams, streaming videos, or just your computer screen. Bandicam supports H.264, Xvid, MPEG-1 and MJPEG video codecs, PCM and MPEG-1 Layer II audio codecs. Bandicam provides hardware accelerated h.264 encoder, Nvidia CUDA H.264 encoder, Intel Quick Sync video H.264 encoder. Bandicam will help you carry out a video record with high compression ratio, while keeping the video quality closer to the original work. BandiCam can record video at resolutions of up to 2560x1600 in high quality. BandiCam can record over 24 hours without stopping (Auto Complete Recording function can be used). You can upload the recorded video file to YouTube without converting (720p/1080p full HD video can be made).


D3DGear (Shareware / Windows) is very fast game video recording software and game video broadcasting software. It captures gameplay video to movie with high speed, high quality, small file size. D3DGear has very minimal performance impact on the game and may not cause a game to lag or drop frame rate. D3DGear recording produces high quality video with small file size, and it supports microphone recording, Push-To-Talk recording and face camera overlay. D3DGear is a perfect video game recorder for users who want to record game play with commentary to a movie and upload it YouTube. D3DGear supports PC video games that use DirectX8, DirectX9, DirectX9Ex, DirectX10, DirectX10.1, DirectX11, DirectX11.1 or OpenGL API. D3DGear runs on 32 and 64 bit of Windows XP, VISTA, Windows 7, Windows 8 and Windows 8.1. D3DGear works as a universal video game plugin/add-on, it will automatically attach to a game when it starts. Simply launching D3DGear prior to start a video game, recording or broadcasting video game is as simple as pressing a hot key.


Mirillis Action (Shareware / Windows) can record and stream your gameplay (to Twitch.tv, YouTube, Ustream, Livestream, Aliez) including DirectX and OpenGL games, web player videos, display game framerates, add live audio commentary to create high quality tutorials, record music, capture screenshots... and more! Action allows to record your gameplay in HD. It features great performance and GPU utilization allowing smooth real-time HD gameplay video recording. For video encoding and exporting Action supports NVIDIA CUDA, AMD APP and Intel Quick Sync Video technologies. AMD APP and Intel Quick Sync Video acceleration allow real-time FullHD 60p video recording directly to MP4 (H.264/AVC) format. Action allows to add up to 2 webcam streams to all your real-time gameplay and desktop recordings. Action! Remote Control application allows to monitor and control your Action! gameplay and screen recordings with Android mobile devices. Action allows to record additional live audio commentary during gameplay or dekstop recording. Action allows to record everything you hear on your PC: all sounds, music and game audio. Action uses Mirillis ultra-fast, multicore optimized, proprietary video codec (FICV - Fast Intra Compression Video standard) which together with highly optimized application engine provides the ultimate performance of real-time HD video recording.


Fraps (Shareware / Windows) is the most well-known game recording software. Fraps allows to capture audio and video up to 7680x4800 with custom frame rates from 1 to 120 frames per second. It can record games using DirectX and OpenGL technologies. Fraps produces high-quality videos and offers great video compression options. Fraps allows to save screem recordings as .AVI files. You can split videos onto 4GB chunks. Fraps is easy to use.


LiteCam Game (Shareware / Windows) allows to record DirectX and OpenGL games. It minimizes impact on actual gaming performance while recording and can record up to 100 FPS. You can record League of Legends, World of Warcraft, Minecraft, Need for Speed, GTA and much more PC games. LiteCam Game allows to add your web-cam into gameplay recording (so you can get Picture-in-Picture). LiteCam Game offers HD quality game capture. LiteCam Game enables you to record computer sound and microphone sound simultaneously. liteCam Game is compatible with Windows XP, Vista, 7, 8 (x32 and x64).


ZD Soft Screen Recorder (Shareware / Windows) captures computer screen content with sound and saves as compressed video files in various formats. It is capable of capturing OpenGL, DirectDraw, Direct3D 8/9/10/11 rendered screen content. ZD Soft Screen Recorders offers perfect audio/video synchronization. ZD Soft Screen Recorders offers smooth screen recording without lagging your system. ZD Soft Screen Recorders supports 32 video encoders: H264, Xvid, MPEG-1, MPEG-2, MPEG-4, MJPEG, Windows Media Video 7/8, Flash Video, Apple ProRes, Raw Video, GIF, etc. And it supports 22 file formats: AVI, ASF, FLAC, FLV, GIF, M2TS, M4A, MKA, MKV, MOV, MP2, MP3, MP4, MPG, OGG, SWF, TS, VOB, WAV, WMA, WMV, WV. ZD Soft Screen Recorder is optimized for modern CPUs. ZD Soft Screen Recorder supports Windows XP/Vista/7/8 or Server 2003/2008.


WM Capture (Shareware - $39.95/Windows) - an easy-to-use screen capturing software. It allows to record any video from screen such as live on-screen video, online videos, DVD videos, game plays, etc. WM Capture can record a screen region, or any application window. It can record video with audio even if you don't have the Stereo Mix / Wave-Out mix option in your sound card. It can record without a sound card as well. And it can record video keeping it in sync with audio for hours. WM Capture is compatible with Windows 8/7/Vista/XP/2000.


Dxtory (Shareware / Windows) is a movie capture tool for DirectX 7/8/9/10/11 and OpenGL Applications. Since data is directly acquired from a surface memory buffer, it is very high-speed and works with small load. The codec of Dxtory can record original pixel data as it is. You can obtain the highest quality by lossless video source. Dxtory features distribution writing which helps to avoid the bottleneck of the high-bitrates video writing; it can write data to multiple storages without the need of a special file system. Dxtory can record multiple audio sources simultaneously including your mic. Dxtory supports VFW video codecs, so you may use your favorite video codec. Captured data can be accessed as video source of DirectShow interface; you may use this video source for broadcasting video. Dxtory supports Windows XP, Vista, 7, 8 (x32 and x64).


.$ Recommended stream recorder $.
REPLAY CAPTURE SUITE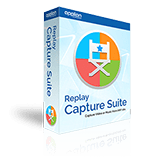 RECORD / RIP/ DOWNLOAD / CAPTURE / SAVE / CATCH / GET ANY AUDIO / VIDEO stream including
streaming Flash video (like YouTube),
Windows Media audio and video,
Real Audio, Real Video, Real Media,
Apple QuickTime,
Microsoft Silverlight,
HTTP Dynamic Streaming,
Apple HTTP Live Streaming,
Smooth Streaming Media,
Lumberjack streaming,
Icecast (ICY) streaming,
MoveMediaPlayer,
Nullsoft Video,
video streaming from Slingbox,
satellite Sirius and XM Radio,
any music from Web Radio Stations and Internet Music Services.