.: How to Record ASF stream / Download ASF streams / Capture ASF streaming / Save streamed ASF as a file [RTSP, MMS, HTTP protocols] - ASF Recorder FAQ :.
How to Record ASF stream / Download ASF streams / Capture ASF streaming / Save streamed ASF as a file [RTSP, MMS, HTTP protocols] - ASF Recorder FAQ
Featured Product:



WM Recorder

Schedule or instantly download and capture Windows Media audio/video streams, streaming Real Audio/Video, Flash video and QT video streams with just one click! Get WM Recorder and you'll be able to record all the popular streaming video formats, including .ASF, .ASX, .WMV, .WMA, .RM, .RAM, .RA, .FLV, .MOV and more!

Download a free trial today!
Windows Media Streams:

Windows Media metafiles (redirectors): ASF Recorders allows to capture ASF stream and save it as a file. Some Stream Recorders allow to save only Streaming Windows Media (which you probably watch using Windows Media Player). Other Streaming Video Recording Software allows you to download not only Windows Media Streams, but also Real Media Streams (Real Video and Real Audio, which could be played by RealPlayer or RealOne Player), QuickTime Video, Flash Video, HTTP Live Streaming, HTTP Dynamic Streaming,...

RTSP, HTTP, and MMS protocols are used for Streaming Windows Media (Starting with Windows Media Player 9 Series, Windows Media Services 9 Series and Windows Server 2003 RTSP Protocol is now the default protocol for streaming Windows Media).
Some Streaming Media Recorders can automatically rollover to different protocols (if protocol rollover is supported by the server and switched on). RTSP protocol is supported by fewer stream recording programs like WM Recorder, Replay Media Catcher. Due to RTSP protocol rollover problem in many cases Streaming Windows Media couldn't be downloaded by old software. So please download the latest versions of Stream Recorders supporting RTSP for Streaming Windows Media before asking a question.

Note that some Windows Media Stream Recorders like WM Recorder can make ASF file seekable, so you will be able to fast forward or rewind your videos. If yow want to make already downloaded ASF files seekable, repair, join or split Windows Media, convert ASF/WMV format to AVI, ... see the FAQ on fixing (repairing) broken Windows Media files.
.$ Recommended stream recorder $.
REPLAY CAPTURE SUITE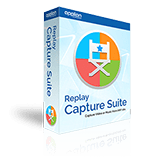 RECORD / RIP/ DOWNLOAD / CAPTURE / SAVE / CATCH / GET ANY AUDIO / VIDEO stream including
streaming Flash video (like YouTube),
Windows Media audio and video,
Real Audio, Real Video, Real Media,
Apple QuickTime,
Microsoft Silverlight,
HTTP Dynamic Streaming,
Apple HTTP Live Streaming,
Smooth Streaming Media,
Lumberjack streaming,
Icecast (ICY) streaming,
MoveMediaPlayer,
Nullsoft Video,
video streaming from Slingbox,
satellite Sirius and XM Radio,
any music from Web Radio Stations and Internet Music Services.