.: How to Record QuickTime Streaming Video (QuickTime video stream recorders) :.
How to Record QuickTime Streaming Video (QuickTime video stream recorders)
All Streaming Video Downloading/Capturing Software - compare main features easily
---

Net Transport (NetXFer) 2.x (Shareware - $29.95/Windows and Mac OS X) is a download manager with streaming audio and video support. It can download:

streaming Flash Video (.FLV, .MP4) through HTTP, RTMP, RTMPE and RTMPT protocols
streaming Windows Media (.ASF, .ASX, .WMA, .WMV, ...) through HTTP, RTSP and MMS protocols
streaming Real Media streams (.RM, .RA, .RMVB, .RAM, .SMIL) through HTTP, RTSP protocols
streaming audio and video from Darwin server (.mp4, .3gp, .mp3) through HTTP and RTSP protocols
ShoutCast/Icecast streams (.MP3, .NSV) through HTTP protocol

Net Transport can postprocess metafiles (ASX, RAM, SMIL)
You can download password-protected files. BASIC and NTLM authentication is supported for HTTP, MMS and RTSP downloads. In addition, RN5 authentication works for RTSP downloads.
Shoutcast Metadata Protocol and MP3 broadcast streaming are supported.
Platform: Windows
The free trial period is 30 days.
Download NetTransport 2.x fpr Windows
Buy Net Transport 2.x at Plimus for US $29.95

---

HiDownload (HD) 8.x - is a download manager that can download streaming media. It support QuickTime video and audio streams broadcasted through HTTP and RTSP protocols.
Used protocols:

RTMP
HTTP
FTP
RTSP
MMS(TCP) and MMS(HTTP)


HD supports multi-threads downloading with resuming capability
Downloading using multiple threads especially video recording (if sites allows), shortens download period significantly (you can fully use your ISP bandwidth). HD supports Proxy Servers. br/>
Other features:

HTTP/FTP/SOCKS proxy management
Flexible batch job methods to download multiple files
Live Broadcast Manager



Platform:
Windows

The free trial period is 50 days.
Download HiDownload
Buy HiDownload at Avantgate for US $39.95 to use full features.

---

VLC Player - is a freeware streaming media player that allows to dump (download) QuickTime streams to hard disk. It supports HTTP and RTSP streams. VLC player is compatible with Windows, Linux and Mac OS.
.$ Recommended stream recorder $.
REPLAY CAPTURE SUITE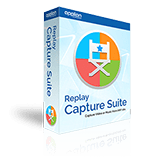 RECORD / RIP/ DOWNLOAD / CAPTURE / SAVE / CATCH / GET ANY AUDIO / VIDEO stream including
streaming Flash video (like YouTube),
Windows Media audio and video,
Real Audio, Real Video, Real Media,
Apple QuickTime,
Microsoft Silverlight,
HTTP Dynamic Streaming,
Apple HTTP Live Streaming,
Smooth Streaming Media,
Lumberjack streaming,
Icecast (ICY) streaming,
MoveMediaPlayer,
Nullsoft Video,
video streaming from Slingbox,
satellite Sirius and XM Radio,
any music from Web Radio Stations and Internet Music Services.