.: How to download/capture/record streaming video and audio : HTTP Dynamic Streaming downloaders/recorders - capture/download/rip/save/record Adobe HDS HTTP .MP4 streams (.F4F fragments) :.
HTTP Dynamic Streaming downloaders/recorders - capture/download/rip/save/record Adobe HDS HTTP .MP4 streams (.F4F fragments)
Adobe HTTP Dynamic Streaming (HDS) allows to stream on-demand and live adaptive bitrate videos using standards-based MP4 media and regular HTTP connections. MP4 fragment format is the industry standard for adaptive bitrate streaming. Adobe HDS uses open file format specifications for the media and manifest formats. Adobe HDS uses H.264 or VP6 video codecs, AAC or MP3 audio codecs. High-definition (HD) video up to 1080p, with bitrates from 700kbps up to and beyond 6Mbps, can be streamed via HTTP Dynamic Streaming. HTTP Dynamic Streaming allows to deliver content to Adobe Flash Player, Adobe AIR applications as well as media players using Open Source Media Framework (OSMF), so users of Windows, Mac OS and Linux can get live and on-demand streams including HD content.
Downloaders/recorders of Adobe HTTP Dynamic Streaming (fragmented MP4 streams)
Many web-sites use Adobe HDS for delivering live and on-demand videos. Some of them are NBCOlympics pluzz.fr, fora.tv, nrk.no, 1tv.ru, ndr.de, m6replay.fr. Such videos can be recorded using Adobe HDS downloaders/recorders.

Some web-sites use DRM protection like Akamai DRM. Examples of such web-sites: SVT Play, mako.co.il, now.ru, comedyclub.tnt-online.ru, cers.com.br, startv.in. Currently there is no way to download DRM protected streams. You may try to download/record alternate streams if they are available. Or you may record DRM protected streams using screen recording software like Replay Video Capture.
Replay Media Catcher 7 (Jaksta) Editor's choice! (Shareware / Windows) - allows you to download or capture streaming video and audio automatically. Supports the most popular streaming video and audio formats. It allows to:

Download Adobe HTTP Dynamic Streaming (HDS) streams (.MP4) through HTTP protocol
Download Smooth Streaming (Microsoft Silverlight) streams
Download Apple HTTP Live Streaming (HLS) streams
Download and capture Flash Video (.FLV, .MP4) through HTTP and RTMP protocols
Download streaming Windows Media (.ASF, .WMA, .WMV) through HTTP, RTSP and MMS protocols
Download streaming Real Media streams (.RM, .RA, .RMVB) through HTTP and RTSP protocols
Download streaming QuickTime streams through HTTP protocol
Download ShoutCast/Icecast/ICY streams (.MP3) through HTTP protocol
Download Lumberjack Streaming (audio and video streams used by DailyMotion)

Replay Media Catcher is an easy to use software. Just hit the Record button and all your audio and video streams will be downloaded/captured automatically.
Platform: Windows 8/7/Vista/XP.
Download Replay Media Catcher 7
Buy Replay Media Catcher 7 for US $49.95

---

Adobe HDS Downloader by KSV (Freeware / Windows, Linux, Mac OS) is a php script to join HDS fragments into flv file. You can either use manifest switch or use any download manager with batch capabilities to download the fragments (though use of manifest switch is recommended):

php AdobeHDS.php --manifest "your_manifest_url" --delete

if you fragments are serially numbered without a base filename (1.f4f, 2.f4f.......99.f4f) then you can run the script without any parameter and it will look for the fragments in current directory and output will be saved as Joined.flv.

However if your fragments are named with base filename (MyVideo-Seg1-Frag1.f4f, MyVideo-Seg1-Frag2.f4f.........MyVideo-Seg1-Frag99.f4f) then you can pass the base filename with fragments switch to the script and it will look for the fragments starting with this name and output will be saved as MyVideo-Seg1-Frag.flv. f4f extension is optional.

Requirements: PHP.

---

HDS Link Detector for Firefox by KSV (Freeware)
Adobe HDS (HTTP Dynamic Streaming) is a new technology to deliver video stream in fragments instead of one single stream. Adobe HDS Downloader (AdobeHDS.php script) was created to download and stitch those fragments in single flv file. You need to pass some parameters (e.g. manifest) to the script to download videos. Though finding those parameters is easy, but doing so for multiple videos can easily become a cumbersome job. This Firefox add-on allows to detect these parameters and generate proper command line automatically. So you you can simply paste the command into the console to download your video fragments and join them into a single file.
Whenever a manifest link is detected, HDS Link Detector shows a notification which remains visible for few seconds. clicking on this notification will copy the generated command to clipboard.

If you encounter a DRM protected stream, then you will get a message like

This stream is encrypted with Akamai DRM. Decryption of such streams isn't currently possible with this script.

DRM protected streams can NOT be downloaded.

---

hdsdump by WendyH (Freeware / Windows or OS with MONO runtime) is an AdobeHDS.php ported to .NET and rewritten. hdsdump.exe is a freeware open source command line application, that can be used in Windows. You may also run it in Linux and Mac OS using MONO runtime.

Windows or any other OS with MONO runtime.

---

AdobeHDS.py by palm1234 (Freeware ) is a Python version of AdobeHDS.php with major features.

---
See also: Universal Stream Recorders (Record Real Media streams as well as Flash video, Windows Media and QuickTime Streams)
.$ Recommended stream recorder $.
REPLAY CAPTURE SUITE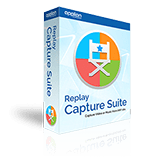 RECORD / RIP/ DOWNLOAD / CAPTURE / SAVE / CATCH / GET ANY AUDIO / VIDEO stream including
streaming Flash video (like YouTube),
Windows Media audio and video,
Real Audio, Real Video, Real Media,
Apple QuickTime,
Microsoft Silverlight,
HTTP Dynamic Streaming,
Apple HTTP Live Streaming,
Smooth Streaming Media,
Lumberjack streaming,
Icecast (ICY) streaming,
MoveMediaPlayer,
Nullsoft Video,
video streaming from Slingbox,
satellite Sirius and XM Radio,
any music from Web Radio Stations and Internet Music Services.