.: How to download/capture/record streaming video and audio : Virtual web camera: How to do webcamming without physical web-cam :.
Virtual web camera: How to do webcamming without physical web-cam
SplitCam (Freeware / Windows) is a free virtual video clone and split video capture software for connecting several applications to a single video capture source.

It allows you to use a video file, an IP camera or your desktop (full desktop, zoomed area where you mouse cursor is or a selected rectangle) instead of your web-cam. Also it allows you to use your web-camera simultaneously in several Windows applications. You may also add effects to your physical webcam: zoom web-cam video, add filters to video, change background, add items to your face (masks, hats, eyes, noses,...), add avatars and objects, add text to your video. Also SplitCam allows you to record video from a web-cam (only basic recording option) and upload your recordings to youtube. SplitCam supports instant messengers like ICQ, Yahoo Messenger, MSN Messenger, Skype,...

You may choose different video sources: USB Web Cam, screen, video file or image file.


WebCamStudio (Freeware / Linux) is a free open source virtual webcam software that can be used with Skype or a flash website like UStream, to create a professional looking broadcast, including banners, animations, transit animations and icons, etc...
Features:

Broadcast your desktop for creation of nice HOWTO's
Use all kinds of devices as webcamera like a MiniDV, your iPhone, etc....
Switch webcams on a single click
Co-host a remote friend, show his webcam inside your output (PicInPic)
Be creative and put animations and banners
Apply some fancy effects on each source
Show an IRC channel in your video broadcast
Display what song is currently played by Rhythmbox
Connect to WeatherBug and display your current weather
Have a green wall, then why not use the ChromaKey effect to do the same as the weather man on the news network




Magic Camera (Shareware / Windows) is a virtual web-cam software allowing to set use video files, photos, desktop screen, DV cameras, camcorders, IP cameras (Directshow), Video capture cards, or TV cards instead of your real physical web camera. You may use this video in your instant messengers (like Skype, MSN Messenger,...) or broadcasting sites (like Justin.tv, UStream.TV).
Main features of Magic Camera:


Simulate multiple webcams & use them independently in different webcam applications.
Stealth-Mode to avoid virtual webcam detecting/blocking by some applications (e.g., ChatRoulette).
Split & use your physical webcam in up to 32 applications simultaneously.
Send/record sounds as well as video, via the virtual sound card tool.
Take fun pictures and Record videos from your webcam/li>
Add cool webcam effects to your video chats!
Dual-Mode (Kernel & User) simulation to trade off compatibility against performance.

Download Magic Camera. It is FREE to try.
Buy Magic Camera at Avangate.


Manycam (Freemium / Windows, Mac OS) is a freemium web-cam software (basic version is free, pro version is not free) that allows you to use a virtual web-cam (video file, desktop,...) instead of your real physical web-camera. Also it allows you to use your web camera with multiple programs simultaneously.

Main features of ManyCam:


Screencast desktop and draw over video
Use IP camera instead of your web-cam
Add text, graphics and effects to your webcam video.
Add cool animations to your video window.
Show your local day and date in your video window.
Add live CGI graphics like fire and water effects. You can even make it appear as if it is snowing inside your house!
Use your webcam with multiple programs simultaneously.




VH MultiCamera Studio (Freeware / Windows) is a free virtual web-cam software by Hmelyoff Labs that allows to use an IP camera, multiple web-cams, images,... instead of your web-cam. The developer stopped releasing new versions and supporting its software.


Fake Webcam (Shareware / Windows) creates a virtual web-cam and allows you to use any video file instead of physical webcamera. Also it allows to add some effects to your webcam.


Video2Webcam allows you to show a video file or a picture as your virtual web-cam. You may use it during video chats whether you own a real physical Web cam or not. Video2webcam supports avi, asf, flv, mp4, mpeg, mpg, ram, rm, rmvb, wmv video files and jpg, gif, bmp, png pictures.


.$ Recommended stream recorder $.
REPLAY CAPTURE SUITE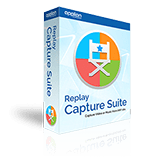 RECORD / RIP/ DOWNLOAD / CAPTURE / SAVE / CATCH / GET ANY AUDIO / VIDEO stream including
streaming Flash video (like YouTube),
Windows Media audio and video,
Real Audio, Real Video, Real Media,
Apple QuickTime,
Microsoft Silverlight,
HTTP Dynamic Streaming,
Apple HTTP Live Streaming,
Smooth Streaming Media,
Lumberjack streaming,
Icecast (ICY) streaming,
MoveMediaPlayer,
Nullsoft Video,
video streaming from Slingbox,
satellite Sirius and XM Radio,
any music from Web Radio Stations and Internet Music Services.