.: How to download/capture/record streaming video and audio : UScreenCapture - Directshow filter for screen recording from any Windows software :.
UScreenCapture - Directshow filter for screen recording from any Windows software
UScreenCapture (Freeware / Windows) is a general purpose DirectShow source filter that allows screen recording. After the installation of this component you will be able to stream your desktop window or part of it. This filter can also be used with any video editing or recording application. Capture frame rate and desktop region to capture can be configured. Dual-monitor systems are supported.

Any Windows application that works with video sources can pick up this DirectShow filter and work with it. So video editing, video capturing (recording) applications, streaming servers (like Windows Media Encoder, Unreal Media Server, VideoLan), Adobe Flash plugin will be able to use this filter as a video source. For example, you may record or broadcast your screen using freeware VLC player and UScreenCapture.

The filter is configurable. You can change desktop region that needs to be recorded as well as frame rate.The default desktop region is full screen. The default frame rate is 10 frames/sec (fps).

Platform: Windows (x86 and x64)
Requirements: DirectX 8+
.$ Recommended stream recorder $.
REPLAY CAPTURE SUITE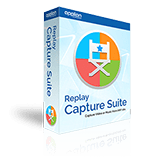 RECORD / RIP/ DOWNLOAD / CAPTURE / SAVE / CATCH / GET ANY AUDIO / VIDEO stream including
streaming Flash video (like YouTube),
Windows Media audio and video,
Real Audio, Real Video, Real Media,
Apple QuickTime,
Microsoft Silverlight,
HTTP Dynamic Streaming,
Apple HTTP Live Streaming,
Smooth Streaming Media,
Lumberjack streaming,
Icecast (ICY) streaming,
MoveMediaPlayer,
Nullsoft Video,
video streaming from Slingbox,
satellite Sirius and XM Radio,
any music from Web Radio Stations and Internet Music Services.