.: How to download/capture/record streaming video and audio : ShiningMorning Virtual Audio Streaming (Stereo Mix Plus) - virtual sound card software :.
ShiningMorning Virtual Audio Streaming (Stereo Mix Plus) - virtual sound card software

Buy Virtual Audio Streaming

Virtual Audio Streaming (Stereo Mix Plus) (ShareWare - $29.95/Windows)


Virtual Audio Streaming (Stereo Mix Plus) simulates a sound card in Windows. You can use it as an enhancement of your physical sound card. Also it fixes the "no stereo mix" problem in Windows 7 and Vista. Virtual Audio Streaming allows to record all sounds playing on your computer; It is done by the kernel sound driver to ensure the sound quality.
Main features of Virtual Audio Streaming (Stereo Mix Plus):
Record any audio from your sound card

Record Skype audio calls, with people's and your voice mixed together or separated;
Record audio from video;
Record online music and audio, chatting/meeting voice, game sound, Internet radio, etc.
Record microphone voice;
Remove DRM protection from WMA files by re-recording them from Windows Media Player.

Solve the "No Stereo Mix" problem in Windows 10/8/7/Vista: Virtual Audio Streaming virtual sound card driver has been digital signed with Microsoft, so it is a perfect solution to fix the no stereo mix issue of Windows 10/8/7/Vista (Both x32 and x64)
Broadcast sounds: Normally, online broadcasting sites like justin.tv, ustream.tv or VoIP software like Skype can only get sound from your physical microphone. Virtual Audio Streaming removes this limitation. With its Virtual Microphone, you can easily broadcast/stream your local files, physical microphone, or any sounds you hear from your computer. For example, you can open a webpage, hear a song online, and then broadcast it to justin.tv, ustream.tv at the same time.
Mix microphone and Stereo Mix (What U Hear): As a loopback virtual sound card, Virtual Audio Streaming can create virtual cables between two applications. For example, you can use this feature to add microphone voice to audio files or live Internet music. Then, the mixed sounds can be easily recorded or broadcasted.
System requirements for Virtual Audio Streaming (Stereo Mix Plus)
Windows 10 / 8 / 7 / Vista/ XP/ 2000 / Server 2008 R2 (32bit and 64bit)
Download Virtual Audio Streaming
Buy Virtual Audio Streaming at Avangate for $29.95
Virtual Audio Streaming product page
Avangate Secure Ordering - 100% Secure Purchase
Avangate is one of the most trusted names in online order processing that's been doing business on the internet since 2006. Avangate is a BBB accredited business. The order process is protected through a secure connection. Your personal data is encrypted and cannot be accessed by a third party. We do not record your credit card information. Your private data is 100% safe, as Avangate complies with the latest online security standards.
You can select the payment type such as credit card (Visa, Mastercard, Maestro, American Express, JCB, Discover/Novus, Diner's Club), PayPal, bank/wire transfer, Giropay, Alipay, Webmoney, cash,...
.$ Recommended stream recorder $.
REPLAY CAPTURE SUITE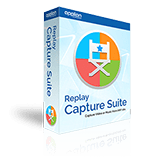 RECORD / RIP/ DOWNLOAD / CAPTURE / SAVE / CATCH / GET ANY AUDIO / VIDEO stream including
streaming Flash video (like YouTube),
Windows Media audio and video,
Real Audio, Real Video, Real Media,
Apple QuickTime,
Microsoft Silverlight,
HTTP Dynamic Streaming,
Apple HTTP Live Streaming,
Smooth Streaming Media,
Lumberjack streaming,
Icecast (ICY) streaming,
MoveMediaPlayer,
Nullsoft Video,
video streaming from Slingbox,
satellite Sirius and XM Radio,
any music from Web Radio Stations and Internet Music Services.