.: How to download/capture/record streaming video and audio : Rip Tiger - streaming video downloader (Windows) :.
Rip Tiger - streaming video downloader (Windows)
Streaming video downloader supporting HTTP, RTMP, RTSP, MMS video streams.
Rip Tiger (Shareware/Windows) - is a streaming video downloader. It supports the most popular streaming video/audio formats and protocols:
Flash Video (HTTP and RTMP)
Windows Media (HTTP, MMS and RTSP)
Real Audio and Real Video (HTTP and RTSP)
MPEG
QuickTime
Streaming MP3 (Shoutcast)
Rip Tiger starts dowloading online streaming videos automatically as soon as you start watching them. Rip Tiger can download most online video even if you close your browser (provided internet connection remains active for the duration of the download). All streaming audio/video downloads are saved onto your disk. Fast video downloading allows to several video streams simultaneously.

RipTiger uses 3 video downloading/capturing technologies to ensure compatibility with just about any video web-site:
Basic Video Ripping - works for most popular video sharing web-sites like YouTube, Dailymotion, Vimeo, etc.
Advanced Video Ripping - a technology that only works in Internet Explorer for difficult to capture web-sites (the ones not supported with Basic Video Ripping), like Hulu.
Advanced Video Intercepting - adds compatibility with just about any video web-sites / improves compatibility with currently supported web-sites. (e.g. MySpace Videos, Yahoo! Screen)
Main features of RipTiger:
Downloads video streams and saves DIGITAL COPIES of streaming videos to your disk. There is no any recompression.
TURBO downloading - download video stream with up 10x speed
Correct NAMING - the downloaded/captured/ripped videos will retain the original names from the source web-pages.
Download videos WITHOUT ADS (commercials)
DUPLICATES FILTERING - downloads just one copy from any web-site.
Download streaming audio and video AUTOMATICALLY
Download several video streams SIMULTANEOUSLY
CONVERT downloaded video and audio streams to the most popular formats.
Requirements:
Non-proxy internet connection
Windows 8/7/Vista/XP (x32 and x64)
Download a free trial version of Rip Tiger
Buy RipTiger at RegNow for only $34.99
.$ Recommended stream recorder $.
REPLAY CAPTURE SUITE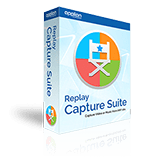 RECORD / RIP/ DOWNLOAD / CAPTURE / SAVE / CATCH / GET ANY AUDIO / VIDEO stream including
streaming Flash video (like YouTube),
Windows Media audio and video,
Real Audio, Real Video, Real Media,
Apple QuickTime,
Microsoft Silverlight,
HTTP Dynamic Streaming,
Apple HTTP Live Streaming,
Smooth Streaming Media,
Lumberjack streaming,
Icecast (ICY) streaming,
MoveMediaPlayer,
Nullsoft Video,
video streaming from Slingbox,
satellite Sirius and XM Radio,
any music from Web Radio Stations and Internet Music Services.