.: How to download/capture/record streaming video and audio : Orbit Downloader - freeware download manager with streaming media support (Windows) :.
Orbit Downloader - freeware download manager with streaming media support (Windows)
Download HTTP, RTMP, RTSP, MMS video and audio streams with a free download manager for Windows.
Featured Product:



Replay Media Catcher

Schedule or instantly download Flash video streams (HTTP, RTMP), Windows Media audio/video streams (HTTP, RTSP, MMS), streaming Real Audio/Video (HTTP, RTSP), and QuickTime video streams with just one click! Get Replay Media Catcher and you'll be able to capture or download all the popular streaming audio and video formats, including MP3, FLV and MP4!

Download a free trial today!
Orbit Downloader (Freeware/Windows) is a download manager with streaming media support. It allows downloading video/music/streaming media from YouTube, Pandora, Rapidshare.
Main features:
Download Rich Media: Streaming Media, RTMP, Social Music & Video
Orbit Downloader supports HTTP/HTTPS/RTSP/MMS/RTMP protocols for downloading streaming media. Orbit Downloader can be used as YouTube downloader to download YouTube videos. And it allows to download music and video from social music/video websites like YouTube.
Find stream URLs
Orbit Grab++ allows to find stream URLs, that you can use to download streaming media with Orbit Downloader.
Small-sized and Resource-friendly
Orbit Downloader is written with efficiency in mind, it typically uses less than 3MB of memory and 3% of cpu when downloading. Additionally, the installation package is less than 2MB.
Free and Safe
100% free and no registration required. No adware!!! No spyware!!!
Requirements:
64 MB of RAM
6 MB of free disk space
Microsoft Windows 7/XP/Vista/NT/2000/2003

Price: Freeware.
.$ Recommended stream recorder $.
REPLAY CAPTURE SUITE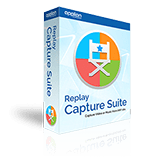 RECORD / RIP/ DOWNLOAD / CAPTURE / SAVE / CATCH / GET ANY AUDIO / VIDEO stream including
streaming Flash video (like YouTube),
Windows Media audio and video,
Real Audio, Real Video, Real Media,
Apple QuickTime,
Microsoft Silverlight,
HTTP Dynamic Streaming,
Apple HTTP Live Streaming,
Smooth Streaming Media,
Lumberjack streaming,
Icecast (ICY) streaming,
MoveMediaPlayer,
Nullsoft Video,
video streaming from Slingbox,
satellite Sirius and XM Radio,
any music from Web Radio Stations and Internet Music Services.