.: How to download/capture/record streaming video and audio : Coojah and Blader - freeware URL sniffer, HTTP/RTMP/RTMPE downloading and capturing software (Windows) :.
Coojah and Blader - freeware URL sniffer, HTTP/RTMP/RTMPE downloading and capturing software (Windows)
Download HTTP, RTMP, RTMPE flash video and audio stream using freeware URL sniffer, downloader and capture software for Windows.
Featured Product:



Replay Media Catcher

Schedule or instantly download Flash video streams (HTTP, RTMP), Windows Media audio/video streams (HTTP, RTSP, MMS), streaming Real Audio/Video (HTTP, RTSP), and QuickTime video streams with just one click! Get Replay Media Catcher and you'll be able to capture or download all the popular streaming audio and video formats, including MP3, FLV and MP4!

Download a free trial today!
CooJah 6 (Freeware/Windows) is an upgrade version based on URLCapturer v5 (URL sniffer). It allows to find stream URLs (sniff URLs). It can also capture HTTP, RTMP and RTMPE streams from Adobe Flash Player. And it can send parameters to Blader, which allows to download HTTP, RTMP and RTMPE streams.

Coojah can be used as a URL sniffer
It can sniff out all network resources which your computer is requesting. These resources include audios, videos, images, flash files etc. Coojah allows to sniff the whole request header and whole response header, which makes it a powerful tool for network resource downloading and real network resource type identification.

Coojah is integrated with Blader audio/video downloader

Some websites use some HTTP parameters, such as Referer and Cookie, to forbid downloading their resources by other tools than web browsers. Or they may only provide audition not downloading. What normal download tools download may be just some warning pages. There is a download tool named Blader released together CooJah. It can be used together with CooJah to download those resources that normal download tool can't download. Most important feature of Blader is that you can specify any HTTP request header. That is to say, you can specify Referer and Cookie. Thus it can completely simulate other clients such as web browsers and AV players. And as a result, it can break through limitation of some websites. CooJah can sniff out the whole request and response header and can integrate with Blader. These two combine together to be powerful kit for downloading network resources like HTTP, RTMP and RTMPE streams from Adobe Flash Player.

Coojah can be used as a flash video and audio capture software
Just hit the record button and Coojah will capture HTTP, RTMP and RTMPE streams from Adobe Flash Player and will save them to your disk.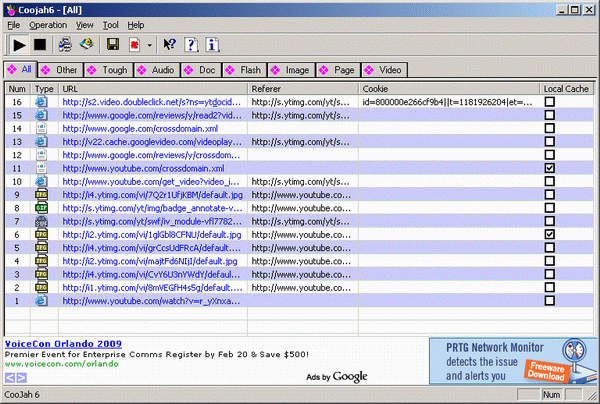 Widely support for overwhelming online videos
The app is able to browse and download video clips from video hosting websites of HTTP, RTMP, RTMPT, RTMPE, RTMPTE protocol, and these cover overwhelming majority of websites such as Hulu, Veoh, Boxee, Joost, YouTube, Yahoo Video, CBS, etc.
Capture URL automatically
The URL of any video clip that is playing will be auto-captured and listed out for your convenience, and you can download it with one click or just ignore it. There is no bother to add URL manually.
Enrich your A/V collection
This FLV Downloader is capable of downloading flash video and audio stream you can play online so that you can save numerous online video and audio streams to your hard drive. The videos will be saved as FLV or MP4 format in your media library and a powerful player is inlaid for you to play them back freely.
Considerate task manager and view log
The task manager lists detailed information of files such as name, size, progress, location etc and allows you to play, stop, delete and convert (full version) the FLV files downloaded. Auto shutdown is available as well. The view log makes it easier to manage your tasks.
Requirements: Coojah supports all kinds of network types of Windows 2000 and Windows XP. Such as LAN, ADSL, Dial up, Wireless etc.
Price: Freeware (Adware).
.$ Recommended stream recorder $.
REPLAY CAPTURE SUITE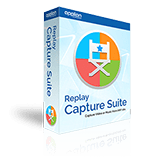 RECORD / RIP/ DOWNLOAD / CAPTURE / SAVE / CATCH / GET ANY AUDIO / VIDEO stream including
streaming Flash video (like YouTube),
Windows Media audio and video,
Real Audio, Real Video, Real Media,
Apple QuickTime,
Microsoft Silverlight,
HTTP Dynamic Streaming,
Apple HTTP Live Streaming,
Smooth Streaming Media,
Lumberjack streaming,
Icecast (ICY) streaming,
MoveMediaPlayer,
Nullsoft Video,
video streaming from Slingbox,
satellite Sirius and XM Radio,
any music from Web Radio Stations and Internet Music Services.